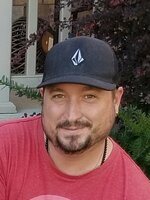 Bryan Roussel
It is with a heavy heart that we announce the peaceful passing of Bryan Roussel, in his 44th year. The world has lost a beautiful soul way too soon and while we cannot imagine our lives without him, we are grateful for the time we had together. His legacy will live on in the lives of those who loved him.
He was a cherished husband to Roxanne, devoted "Dada" to Chloé, and loving son to Gerry and Madeleine. He will also be deeply missed by his sister Nicole, her husband Dave, his in-laws Guy and Claude, brother-in-law to Nathalie (Andrew) and Stéphan (Jaclyn). Special uncle to Oryn, Ethan, Serin, Isabelle, Abigail, Audrey, and Chase. He will also live on in the loving memories of his uncles and aunts, as well as numerous cousins, extended family, and friends.
Sports were a big part of Bryan's life, whether he was playing the game himself or watching his favourite Blue Jays with friends or family. He seized any chance to work on a good DIY project, even if it meant spending countless hours running back and forth to the hardware store and spending way more than it would have simply cost him to buy it. Bryan also had a sensitive heart for all people and animals, including his beloved fur baby Mitsu, seizing any opportunity to lend a hand. He was a "walking encyclopedia" thanks to his avid love of reading and his quest for learning. He also enjoyed spending time outdoors and was a dedicated employee to the CBSA for over 20 years. His greatest love though, was his family, whom he devoted his care and worries to, and who gave him his greatest joy.
We wish to thank the nurses and doctors at St. Joseph's hospital (Bishop Dowling ICU), for the great care that Bryan received and helped to make this journey easier for everyone.
Cremation has taken place. Friends will be received at Donald V. Brown Funeral Home, 36 Lake Avenue Drive, Stoney Creek on Sunday, May 29, 2022, from 2- 4 p.m. At the request of the family masks will be required. Notes of sympathy and condolences may be made at www.donaldbrown.ca.
In lieu of flowers, we encourage you to do a random act of kindness for a stranger in his memory.