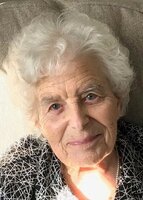 Dorothy Antoinette Potts
(née Bottell)
Surrounded by family and friends in her home at Amica, Dorothy passed away peacefully and sweetly on Tuesday, February 15, 2022 to travel to her new home in heaven.

Dorothy was an intelligent, caring and sensitive person who loved her family, friends, books and chocolate. She was the wife of the late John Alexander Potts and proud mother of daughters Kathryn and Elizabeth, as well as grandmother to four grandchildren she adored… Stephanie, Spencer, Alexandra, and Kristina.

Born on September 19, 1921 in Wimbledon, England, Dorothy celebrated her 100th birthday last fall. Her birthday was a beautiful tribute to the resilience and determination she had shown all her life. She has left a mark on those who have known her and will be dearly missed by all.

Dorothy is survived by her loving daughter Kathryn (Claude Lavallée) and their daughters Alexandra Lavallée (Fraser Plaxton) and Kristina Lavallée (Pierre-Antoine Proulx); her loving daughter Elizabeth and her children Stephanie Flock (Mike Beringer), Spencer Flock (Kate Hicks) as well as their father Brian Flock. She also leaves behind her beloved brother Dick Bottell, loving nieces and nephews, family and friends, in Canada, England and New Zealand.

A special thanks to Amica staff, Gerry Cote and the staff of St. Joseph's Hospital for their care and support.

For family and friends, a celebration of Dorothy's life will be held this summer.
In memory of Dorothy, close your eyes, savour a chocolate and think of her.