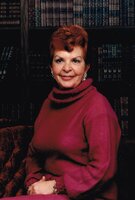 June Marie Andrus
(nee Montgomery)
June 22, 1929-December 25, 2021
It is with profound sadness and broken hearts that we announce the passing of our dearest mother, grandmother, auntie and friend, June Marie Andrus (nee Montgomery). June died at her home on December 25, 2021 at the age of 92.
June was the best mother one could have and is survived by her sons Freeman Jr. (Turner Valley, Alberta); Scott and his wife Tracey (Grimsby); and Paul (Stoney Creek) who had been her caretaker for the last several years. June had several grand-kids whom she loved to pieces: Wynona, Isis and Teresa (Alberta) as well as Lauren and Lindsay (Grimsby) whose visits she so looked forward to and enjoyed every weekend.
June was preceded in death by her late husband Freeman along with her amazing mother, Sarah Almeda Clarke and nine brothers and sisters (Howard, Norman "Scoop", Douglas, William, Helen, Clarice, Betty, Margaret and step-sister Dorothy). June was the last surviving sibling. To her many nieces and nephews, she was a favourite Auntie and the last of a great generation.
June was born on June 22nd, 1929 in St. Catharines and grew up on 8 Catherine Street. She had fond memories of growing up in and visiting this iconic family home.
June had been long retired from Eaton's Department store in Hamilton where she enjoyed many years working in the retail industry. June had a love for decorating and her condo in Stoney Creek was admired by all who visited. As everyone who came into contact with her knows, "Juniebug" was beautiful in spirit and had a way of bringing joy to any room with her positive and cheery attitude and humour. June loved life and was a gift to all of us. She will be missed by everyone!
At June's request, no memorial service or funeral is planned.