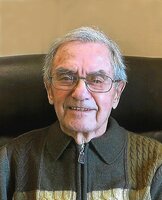 John Elton Seamans
January 3, 1927 - November 21, 2021
Born ELTON JOHN, in the small town of St. George, New Brunswick, it wasn't until 65+ years after his birth that he travelled to Fredericton, NB to have his name correctly/officially changed to John Elton. His birth doctor had incorrectly switched his first and second names. Therefore, although he was the first ELTON JOHN, he wasn't 'that' Elton John.
Beloved husband of his first wife, Marjorie (nee Pare), who passed away in 2004 and they were married for 59 years. He is survived by his second wife, Lillian (nee Coles) and were married for 15 years. Dear Father and Father-in-law of Gary (Melanie and Velma) and Brian (Mary). Loving, adoring Grandfather of Chad (Susan), Leah (Jay Smith), Jillian (Rahmon), Chantel, Megan (Mark Hill) and Brianne (Andrew Johnston). Great-Grandfather to Caitlyn, JJ, Jackson and Carson. Brother-In-Law to Leonard Pare, Gord/Winnie Bull, Stanley/Nancy Trowbridge, Phil/Nellie Harlos and George/Lorraine Pare. Step-Father of Penny Coles, Tim (Tammy) Coles and Paul Coles. Step-Brother to Millie Jenson and Parker (Barb) Coles.
John's death marks the end of a family of six siblings of which he was the second youngest to Lloyd and Emily (nee Brown). Predeceased by siblings Mildred (Guilford Hooper), Rufus (Barbara, Rowena), Phyllis (Lawrence Thomas), Lois (Arnold Cook), Ralph and Burton. He will be missed by his many nieces and nephews living in Ontario, New Brunswick and B.C.
He was a Veteran of the Canadian Forces and joined the Army in 1943. He trained in Ontario alongside his new friend, and future brother-in-law Phil Harlos. After leaving the Army (1945), he married Marjorie and they settled in Hamilton. John worked for 25 years at CIL (Fertilizer Division) until they closed operation. He then quickly found new employment as a Bus Driver with the Hamilton Street Railway and he retired in 1992. He loved interacting with the fine people of Hamilton although the 'split-shifts', 'fare collecting' and 'trolleys' were sometimes challenging aspects of his employment.
In the Community, John was a member of the Royal Canadian Legion (Branch 58), RHLI, Amalgamated Transit Union - Hamilton, Masonic Wentworth Lodge 166 and the Scottish Rite. Every year, he would travel 'back East' to visit friends and family members in NB and always travelled through the scenic States of Vermont and New Hampshire. He loved this annual ritual!
John was hard-working and never backed away from new challenges whether it was putting a basement in their new house, gardening with the clay soil or fixing small engines, which he was trained to do in the Army. His Grandchildren adored him and they enjoyed swimming in the backyard pool, listening to stories of the 'olden days' and just his mild-mannered interaction with them.
The Family is grateful to all those who cared for John at Willowgrove LTC Home as well as the PSW, Christie, who looked after John while he was staying with Mary and Brian before entering Willowgrove. Your exceptional care, compassion and kindness will not be forgotten. Also, a special thanks to Veterans Affairs of Canada for their support over the years.
As per his wishes, John was cremated and will be joining his first wife, Marjorie, at White Chapel Memorial Gardens. Also, he did not want a viewing. A private family memorial service has taken place. Thank you to Donald Brown Funeral Home for their assistance and online condolences may be made at www.donaldvbrown.ca
He was much loved and he will be much missed.