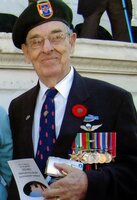 Jack Edward Callowhill
Jack passed peacefully at Juravinski Hospital, November 17th, in his 99th year. Dearly beloved husband of Donna Callowhill (pre-deceased) and loving father of daughter Norma and son Douglas. Pre-deceased by brother William, who died in WWII, 1943.
Jack was a wonderful father, a devoted husband and a loyal friend to everyone he knew.
During WWII, Jack became a member of a special ops army unit that consisted of half Canadian and half American soldiers known as the 'First Special Service Force'. This unit earned the nickname 'The Devil's Brigade,' and in 1968 a movie of the same name was filmed starring William Holden. In 2015, he received a Congressional Gold Medal. Just this past Remembrance Day, Spectator photojournalist John Rennison wrote a lovely article about Jack in the November 11th 2021 edition of the Spec.
Jack also travelled extensively (Spain, Italy, Austria, Germany, France, Turkey, Greece, California, Florida) and in his later years enjoyed attending many international military functions sponsored by the Veterans' Affairs of Canada or the Canadian Special Operations Regiment (CSOR). Jack also attended annual Force Reunions in the U.S.A. and Canada.
Jack had a deep strong bass singing voice, and in earlier years enjoyed singing with barbershop groups, as well as many church choirs. He also sang with the Bach Elgar Choir and the Bach Elgar Singers. For years he was a member of the YMCA and Kiwanis, and was involved in much charity work which included loading food hampers for the needy at the Salvation Army.
Friends will be received at the Donald V. Brown Funeral Home, 36 Lake Avenue Drive, Stoney Creek, on November 22 from 1-4 p.m. Immediately following, a celebration of Jack's life will be held at the Legion Hall at 12 King St. East, Stoney Creek. Parking is at rear, accessed via Lake Avenue South. Cremation has taken place.
On-line condolences may be made at www.donaldvbrown.ca