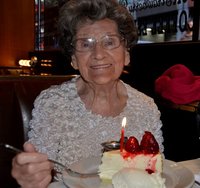 Kathleen Whittaker
Kathleen, the youngest of 4 children, was born in London, England on May 24th, 1923. Soon after, the family moved to rural Kent where she lived until she was 18. In 1941 she joined the RAF and was stationed on different bases where she worked in a top secret environment as a telephonist.
It was during the war years that she met Stanley Whittaker and following the end of the war they were married in January 1946. Because Stanley was a Northerner she moved to his home town of Huddersfield and it was here over the next few years that her three children, Pamela, Christine and Stephen were born.
In 1964, the family moved to India for a few years with Stanley's work, then back to England and in 1969, with only Steve still at home they moved to Canada. Canada was really the making of Kathleen as it was here where she got a job and really gained confidence in her own abilities.
She was able to experience lots of traveling throughout those years, making trips to the UK, Australia, Hawaii and many places across Canada. She had a quiet and steadfast faith in the Lord Jesus which sustained her through the ups and downs of life.
For the past two years, because of some physical challenges, she spent her life at Macassa Lodge in Hamilton and it was here where she passed away peacefully the day after her 98th birthday.
Visitation will be held at the Donald V. Brown Funeral Home, 36 Lake Avenue Drive, Stoney Creek on Sunday, May 30, 2021 from 2-5 p.m. A private family Funeral Service will take place Monday, May 31, 2021.
Due to Covid-19 restrictions, in accordance with the Bereavement Authority of Ontario facial mask/coverings are required. Please visit the Funeral Home website to register your attendance for services due to limited space availability. Visitors will only be accepted by scheduled appointment and will be asked to wait in their vehicle until their allotted time. Congregating on premises is prohibited.
To register for visitation please click here