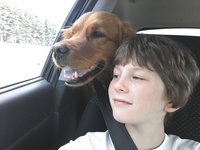 Smith Baker
Smith Baker, son of Ted Baker and Sarah McDougall, passed away peacefully at home with both mom and dad at his side in the early hours of March 27th, 2021. He will be missed immensely by his family and friends. His adventurous and vibrant spirit, and his compassionate and creative nature, mixed with a deep curiosity and enthusiasm for life, will be remembered by all. To know Smith was to know that this world needs more Smith Bakers. Cremation has taken place and a private family burial will be held. A celebration of Smith's life will be planned once restrictions have been lifted.
If you would like, you are welcome to support Smith's legacy foundation which is being established to help families deal with a life-limiting illness of their loved one. We have been so grateful to have had the support of our many family and friends, but know that not everyone is so fortunate. Smith was a gentle, caring and generous soul who saw the best in everyone and would be the first to step up to help someone in their time of need.
Donations can be made by e-transfer to smithlegacy2021@gmail.com or by mailing/drop off a donation to Donald V. Brown Funeral Home – If by cheque, donations should be made out to "Smith Legacy 2021" in care of Carolyn McDougall.
To watch the livestream service on June 26, 2022 at 2 p.m., please CLICK HERE.