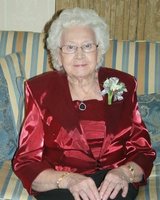 Teresa Lawther
With profound sadness, the family of Mary Teresa Lawther (MacNeil) announces her passing with Covid on Friday January 29th at Juravinski Hospital at the age of 90. Loving wife of the late James Richmond Lawther for 44 years. Devoted mother to Jim, Ken (Tracy), Jo-Anne (Steve) Carolyn (Bob) and Mary (Andy). Teresa's grandchildren, Sarah, Jacqueline, Lindsay, Colleen, John, Gina, Amanda, Christopher, Josh and Benjamin, were a constant source of love and laughter. Teresa is survived by her sister Jovita Center of Boston, MA. She is predeceased by her siblings Malcolm, Magdalene, Murdock, John Joe and Michael. She will be fondly remembered by many nieces and nephews and many others that adopted her as a second Mom over the years.
Teresa was born in Iona, Nova Scotia to a large and loving family. Though her childhood was marked by the tragic loss of both parents, Teresa focused on her deep faith and benefited from the love of her family. Her sister Jovita, in particular, was sister, mother, teacher, mentor and friend throughout her life. Moving to Ontario in the 1950's to work as a nurse, Teresa brought gentle healing and comfort to many. After working in institutions in St. Catharines and Hamilton, she later turned to providing palliative care to elderly patients in their homes. She married her 'wee Scotty' Jim in 1959 and went on to raise five children. The family was blessed with abundant love, attention, humor and faith. As the family grew to include daughters and sons through marriage, her circle of love expanded. Her unique relationship with each grandchild speaks to her endless capacity to offer unconditional love and support. Teresa had a way of seeing everyone for who they are, without judgement and saw only the good in everyone. Even those who met her briefly were quickly drawn to her warm, sweet nature and quick wit. Her children and grandchildren take her in our hearts as we continue our journey and strive to live up to the legacy that she and Jim left.
Due to Covid restrictions the family invites you to join them in virtual prayer. Please visit the Donald V Brown Funeral Home facebook page on Tuesday, February 2nd at 7 p.m. A celebration of life will be held at a future date. In lieu of flowers, please consider donating to Hamilton Food Share or the Mental Health charity of your choice in memory of Teresa.
Link to Donald V. Brown Funeral Home Facebook page HERE