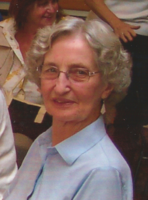 Ina VantVoort - Heintzberger
Catharina (Ina) Marie (VantVoort) Heintzberger, in her 92nd year, born in Amsterdam, the Netherlands, passed peacefully at home in Hamilton, Ontario on September 10, 2020, predeceased by Evert VantVoort (1966) and Ben Heintzberger (2007). Ina came to Canada in 1955 where she met and married her first husband Evert VantVoort and was widowed 10 years later due to a tragic farming accident in Burford, Ontario. Ina was trained as a Registered Nurse in the Netherlands and went back to work in Woodstock, Ontario after the accident in order to support her 3 young daughters aged 5, 6, and 8. She raised her daughters alone, with the help of the Lord and her church community. Her faith has sustained her throughout her life.
Ina was a soft spoken and compassionate soul, also very determined and typically 'stubborn Dutch'. She possessed deep inner strength and was fiercely independent. She enjoyed telling stories at length and would admit "Ik zit weer op mijn praat stoel" (I'm sitting in my talking chair again). Ina loved to play her classical music as loud as possible, was a lover of plants and nature, and interested in other cultures.
Catharina is predeceased by her brother, Hendrik Van den Berg (1932-2017) and is survived by her 3 daughters, Catherine Dale (Bob), grandchildren Ryan and Paula; Alida Jacobine, grandchildren Zekiye, Melika and Ardan; Marian Joan, grandchildren Kate and Tom.
We will be eternally grateful to the Bayshore PSWs, including Elizabeth and Elya, who, for the past couple of years went above and beyond with their compassionate care. They were instrumental in enabling her to stay at home. Also, our gratitude to the Divine Home Care workers who were wonderful in her final days.
Cremation has taken place. Friends will be received at the Donald V. Brown Funeral Home, 36 Lake Avenue Drive, Stoney Creek on Wednesday, September 16, 2020 from 2-4pm with a Funeral Service to follow at 4:30pm in the Funeral Home Chapel. Due to current restrictions, facial coverings are required, and we ask that you visit www.donaldvbrown.ca to register your attendance for the Visitation and Funeral Service.
May She Rest in Peace.
Donations can be made to: Water for Life - (providing clean drinking water for people in need by digging wells)
Life Outreach International - James and Betty Robison
website : www.lifetoday.org
Register for Visitation click here
Register for Funeral Service click here